Skymatics + TerrAvion
Skymatics is excited to announce our new partnership with TerrAvion. This brings our analytics to Growers and Insurers through the capture of high-quality aerial imagery. Skymatics is a bridge between imagery and information, providing customers timely information to help them make profitable decisions in all aspects of their operations. Our product, SkyClaim, is focused on adding value to the crop insurance process for growers and insurers, providing them with a collaborative solution for the assessment and resolution of crop insurance claims.
SkyClaim
SkyClaim is an automated system that classifies and quantifies crop loss using high-resolution aerial imagery traditionally captured by UAV's. An integration with TerrAvion allows customers to subscribe to weekly capture of field imagery over the growing season or for one-off events. SkyClaim helps simplify the process of filing insurance claims for growers while providing insurance providers with a standardized system for processing claims. Combining TerrAvion's best-in-class imagery with the Skymatics' cutting edge analytics, Skymatics offers growers and insurers one of the most accurate and efficient crop loss analysis solutions on the market.
SkyClaim for Growers
SkyClaim provides growers a simple solution to the insurance claims process. Artificial Intelligence and Machine Learning provide the most accurate way to assess damages. This gives growers the peace of mind that their crop damage is being accurately quantified and that they are receiving fair compensation. SkyClaim can significantly reduce the time it takes for insurance adjusters to visit and adjust a grower's fields, allowing them to receive faster compensation for damages. With an automated process, growers are also able to salvage damaged fields faster. Growers now have the option of having their fields flown on a weekly basis through TerrAvion or in the case of a major damage event.
SkyClaim for Insurance Providers
SkyClaim offers insurance providers an automated and streamlined system for handling a damage claims process that is constantly prone to delays due to weather and unsafe conditions. The addition of TerrAvion imagery allows insurers to view specific fields and watch the crop growth throughout the season, capturing large damage events in a timely manner. This partnership can help insurance providers lower their operational costs while enabling them to visualize more acres and increase their estimation accuracy. Skymatics customers can use SkyClaim to produce visually-rich, digital records that provide actionable information.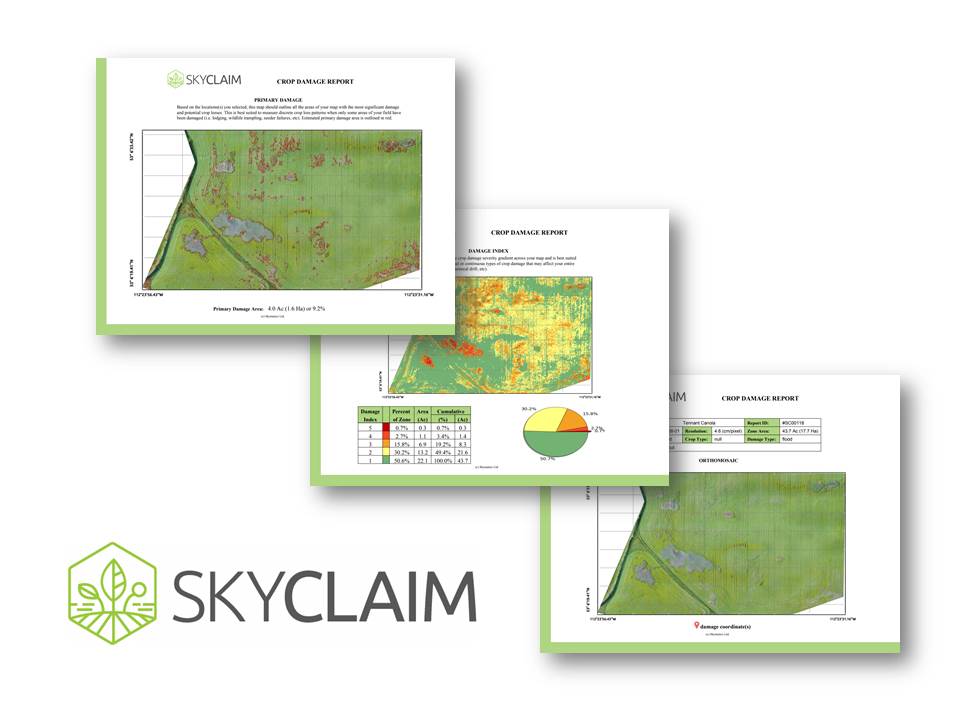 For more information on Skymatics, please visit www.skymatics.com or www.skyclaim.io to learn more about SkyClaim. For more information on TerrAvion Aerial Imagery please contact support@terravion.com.