We love drones. At Skymatics we see a drone as a solution to certain problems that manned aircraft and satellites just can't solve. Having the ability to see from the sky brings a new perspective.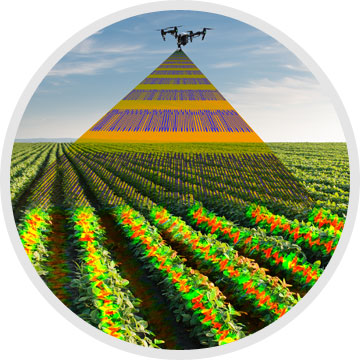 Skymatics Crop Damage Reports takes advantage of this perspective to provide on-demand accurate information to farmers and insurers alike. We collect aerial photos (taken with a drone) of a field, process and analyze it and deliver easy to read reports on crop status, early problem detection, and more.
Traditionally, growers and insurance adjusters will go out to a field to walk around, assess damages, and then negotiate a settlement agreement. What if their opinions differ? What if they can't walk the whole field and you have to estimate with limited information? We created Crop Damage Reports to take away the guessing, and replace it with accurate and timely data.
Growers have submitted images from around the globe into Skymatics' Reporting System. We've analyzed damage of over 100 fields; from grapes in New Zealand, soy in Uruguay, pine trees in the USA, wheat in Canada, and more. Our software creates maps and reports on a variety of crops and conditions through our partner software, Drone Deploy.
Is this sounding intimidating? That's ok! It's new technology, but luckily it's a quick learning curve. Let us break it down into a few easy steps.
Get/borrow/hire a drone

Fly your field

Upload to Skymatics

Receive Report
Breakdown:
Get/borrow/hire a drone – Lots of options here

Skymatics can come fly your field with one of our drones. This is likely only a reasonable option if you're close enough for us to drive to you.

You can get your own drone. We have a few favourites, like the

Phantom 4 (click here for website).

Not ready to buy? Check with your neighbours or family and friends, drones are becoming much more accessible than in the past.

Fly your field

Drone Deploy

Sign up for a free trial

Plan your flight (almost as easy as drawing a box around your field)

Fly your mission

Submit

Upload to Skymatics

This happens within Drone Deploy

Input crop details

Click 'Generate Report'
That's it. You have the ability to see the field like never before. As one agronomist puts it, 'it's like seeing your field from a thousand feet and from ten inches above your plants at the same time.'
Are you a grower interested in having more information about your crop? An adjuster who knows you have limited information? You can always contact us via email at info@skymatics.com or call us at 1-403-536-4004.
Skymatics